Free Coaching Teleseminars
Hello!
Have you ever considered what it would feel like to be a published author? Have you dreamed of how nice would it be to be able to say, "I have a book published on Kindle" or "I am a published author"?
If you're an aspiring author – whether your book is ready, half-done or not even started, I want you to tune in to my no-cost training on getting your book published on Kindle.
Here are the deets:

5 Essential Tips To Getting Your Book on Kindle NOW!
What? A  home study course by Spiritual Business Coach Mandy Wildman
In this free mini course I'm going to share:
What the top-selling Kindle markets are and how to tap into them
How long your book needs to be and a simple Kindle formatting formula
A self-sabotaging belief that stops many good writers from getting their books published
How most people get stuck at the Kindle "tech curve" and how one tool can solve that
How to market your Kindle book once it's published
If you own a business – any business – especially a service business such as coaching, mentoring, leading workshops, spiritual healing or teaching – having a book published is a powerful way to establish credibility with your target audience.
As writers, Wayne and I have edited, ghost-written and co-authored a number of books. We've created literally hundreds of courses, workbooks, articles, scripts and e-books and we've been paid very well as professional writers.
So we were kind of surprised how good it felt to finally be able to say, "Our Success Memos book is now published on Kindle".
What took us so long? It's not like we have a lack of material – we can pull together 100 pages of material any day of the week. Why didn't we do it sooner – MUCH sooner?
After the initial whoop of glee at seeing our book on Kindle, checking out the reviews and watching the "cha-ching" as orders came in, I started to feel – angry.  I realized I was cross with myself and Wayne that as coaches and business leaders we had not made the time to take this step years ago.
For us, there was always something more pressing that needed to be done, projects that had to be taken care of before we could indulge in the luxury of focusing on the dream of sharing our work with the world.
As we waded through the Kindle publishing process there were a lot of things learned and a lot of ah-ha's.  The biggest were, "This wasn't as complicated and time-consuming as we thought it might be" and "We were over-thinking this" along with some "Oh – THAT's good to know!".
UPDATE!
And then THIS happened. Just yesterday.
Over 500 downloads of our book in just 24 hours!!!
As I update this post, it's 8:44am on the second day of a 5-day free promotion and  already there have been 48 downloads of our Success Memos book so far. Our book is going viral as you read this.
Wayne and I love to share everything we learn with our beautiful friends, family, solopreneur clients and new readers.  So of course, this amazing experience with our first Kindle book being so successful – in a number of different ways – led us to create this training call so that YOU can get your book published on Kindle right away instead of waiting as long as we did!
Are you ready?  Great – sign up below:


See you on the other side.
Hugs, Mandy (and Wayne says, "Hey!")
Candace and I have been friends for a couple of years now. We've never met, and have only talked on the phone once or twice. But I adore this lady.
A lot of people dismiss Facebook, but that's where I've met some of my most heartfelt friends. We share our ups and downs, laugh, cry, spit and soar together.
When Candace and I first connected she had a night shift at a gas station in a Chicago neighborhood, where she regularly witnessed violent crimes – including shootings and stabbings.  I could only imagine how afraid she must have felt and how desperate she must have been for the money to have stayed there.
Candace had no budget for coaching or courses but she followed my posts, read my blogs and listened to every free call I did.  And she never gave up on her dream to be an independent, spirit-led solopreneur.
Today I found out that Candace recently quit her soul-destroying job to pursue her dream.  With no windfall to get her up and running in her new business, money was very tight and with children in school, she felt afraid.
But Candace listened to my free Mandy's Magic Money Formula free teleseminar and after a brief self-confessed pause for a little self-pity she decided to get into action and implement the steps I laid out in the money formula training call.
Here is a transcript from our Facebook conversation this morning, which Candace has allowed me to publish here:
"Hi Mandy. I was on the call you did recently for people who need to raise money fast. It was really helpful to me – I've been seeing results from implementing those things you told us to do on the call.

Mandy, I was in bed over the weekend feeling really, really low. I was so distraught, and I said: "God, I know I need to do something but I don't know what it is. I can't even think clearly." So after my 30 minute pity party I got out of bed and said to myself, "You have to do something!" Again, I had no idea what to do.

But then I remembered what you said in your call and I got an idea. I said, why not just ask people if they need some VA services? Just ask directly. I got on Facebook and did that and within 20 minutes I had $90! I was so excited that it worked so fast!

I swear it seems like every time I say to myself when I have a problem, 'I'm open to receiving miracles' it seems like I get a miracle in response! No joke.

And I had a miracle happen today too. I was recently sending some Facebook messages and I was getting all 'nos'. I was ready to get a little upset and then I said to myself, 'No – I'm open to receiving miracles.' The next thing I know this guy I had messaged (whom I don't even know) told me that he had created a page for the people in his group to buy my service package and he's giving it to them as a bonus. Wow – totally amazing results!

Mandy, you aren't going to believe what just happened! While we were chatting here on Facebook I had one of my customers just message me right here next to you in the chat box and he says he wants to book 10 more hours with me!"
I can't even begin to tell you how much that made my day. Candace is just an ordinary, everyday, special and beautiful human being who deserves a special and beautiful life. Just like you do.
So jump over and grab the link to Mandy's Magic Money Formula free training call.
Because we know that you were born to have everything your heart desires, and we want to show you how.
 Hugs, Mandy (and Wayne says, 'Hi!')
Recently I was honored to be invited to record a short audio training based on my chapter in the Join A New Year's Revolution e-book, created by personal development expert and author, Mark Bowness.
As I recorded the training based on my topic – How to Be Successful Being YOU – I realized that the material I was delivering contained seven very important guidelines for goddesses and game-changers.
If you're a spirit-led entrepreneur who's curious about what it will take for you to be truly happy, fulfilled and successful, listen carefully for the 7 guidelines for goddesses and gamechangers that I lay out in this complimentary recorded training presentation.
Enjoy!
Mandy Wildman
P.S. If, after listening to this recording you'd like to set up a time to discuss your spirit-led, soul-centered business, please contact us.
P.P.S. If, on the other hand, you'd be interested in having Wayne and I come to your location to deliver our You Deserve Success seminar, please go here.
Greetings and HAPPY NEW YEAR – it's FINALLY 2014 – woohoooooo!
We are so excited to be on the panel of 31 personal development experts and authors in Mark Bowness' NEW YEARS REVOLUTION ebook and online community.
It's free! it's cool! It's a MOVEMENT! 
Did you know that 80% of people who make New Year's Resolutions don't see them to completion?
What would you do if you had the opportunity for 31 personal development experts to personally train you, teach you and empower you to change your life in 2014 at NO COST? Would you seize it?
YOU can, right here, right now.  Just jump over and join the coolest community EVER – Mark Bowness' NEW YEARS REVOLUTION.
We'll be there ready and waiting to help you make 2014 your best year EVER, because suffering and struggling is SO last year!
Here's to an awesomely successful and abundant year!
Much love and hugs,
Mandy Wildman & Wayne Porter
Your Soul-Centered Success Strategists
People out there had lost everything.  Roads were washed out.  Help couldn't get through.  And Dawn Chitwood was sitting in her restaurant with a huge refrigerator full of food and no power.
She thought about it for a while, took a huge breath, and made the decision to do something wonderful.  She decided to feed 4,000 hungry, desperate men, women and children.
What happened next was the biggest surprise of her life.  A social media firestorm – the best kind of firestorm – erupted and led to a chain of events that took her life in a completely unexpected direction.
To find out what news stations were reporting about Dawn Chitwood up and down the East Coast, listen to her story on our Dream Business Breakthrough Virtual Event and learn the naked truth about what's really possible for YOU.
I put together this event because I know that you deserve success now.
Hugs, Mandy Wildman
P.S. Do you have an amazing story you'd like to share?  Let us know.
They Took a Vow That Changed Everything. . .
Recently we gave a live seminar where we showed attendees how to use what they already knew to get everything they want. We had a great time and ever since we have been getting calls and Facebook messages to please do it again.
The reason we did the seminar is that if you're like most people we meet, you've had a dream about living a life that honors who you are and what you want to create in this life (including a great income and the ability to 'pay it forward').
So you've got the vision and you're putting in the hard work and blood, sweat and tears, but at the end of the day you're left wondering where the results are that you were hoping for.
We meet so many people who've watched the movie "The Secret" and who've read lots of inspirational quotes about the Law of Attraction, but who haven't been able to translate that into making the money they deserve.  They're left with the question:
"If the Law of Attraction really works, where's my abundance?"
Our seminar was created to address that exact question, and some of the results our attendees gained were quite literally life-changing.
We wanted to share some of the 'aha' moments with you, and also let you know about our upcoming online seminar: 'How to Use What You Already Know to Get Your Best Results Ever (in Your Business and Your Life)!'
"I started to apply the correct thoughts and it's working! It's all coming together in my business and even helping at home with my family!"
"The seminar was fabulous – I realized exactly where a limiting belief comes from and how to 'flip it'!"
"There were lots of 'aha' moments for me as I realized more than ever how I've been limiting myself in every area of my life."
Have you ever wished for something to happen and been really disappointed?
Imagine if your life became as magical as it was when you were a child.
What would life be like if you felt as if you knew how to apply the rules of the game?
There is no way we want you to miss this vital training call, because if you're a good person, you DESERVE to have this information.  In fact, this could be the exact missing piece of the puzzle for you, and we want you to have it.
On the surveys, the value of this seminar was voted as priceless by our attendees.
We understand that money might just be an issue right now, so we will soon be charging $50 for this special teleseminar.
However, for a limited time we are offering the teleseminar at no charge.  Just click the button below and enter the coupon code: abundance.
Join us – Mandy and Wayne – free replay for a limited time..
Enter your info and the coupon code: abundance below to SAVE $50 and reserve your spot now.
We don't mind if you send your friends this information.  They deserve to have abundance too, right?
Yours in love and success,
Mandy & Wayne
Video Series: Money Moments with Mandy Wildman
Are you sick of paying everyone else except yourself as the business owner?  Do you have an "up-and-down" thing going on with money?
There's nothing worse than feeling like you're broke all the time, but if you do what Mandy says to do in this short video you wont feel that way any more.  You'll feel empowered and you'll know exactly what to do to make sure you always have money for yourself.
Momo Video #2 – Mandy talks about "How To Earn More Than You Spend"
This video is very short (about 2-3 mins long).
(By the way, 'momo' stands for More Money, Money Moments, Monday Momentum, Money Momentum, or anything else related to making more money in your small business.)
We also made a 15 minute recorded training call all about how to make sure you earn more than you spent – click the link below to listen:Listen to the How To Earn More Than You Spend training call now:
Yours in Success and Abundance,
Mandy Wildman & Wayne Porter
Do you enjoy seeing people suffer?  No?
Well now you know how I feel when I hear, "I don't know if I can do that."  "I don't think I could make a 6 figure income."  "I'm not good with marketing."  "I hate selling."  "I never seem to be able to get ahead."  "I seem to keep getting in my own way."  "Maybe being successful just isn't my destiny."
That just tears me up, because I have personally seen the proof of the fact that what you think is exactly what gets manifested!  With your thoughts you bring into being every moment of your life, and agreeing with limiting beliefs about yourself creates the perfect storm for failure.
But an even more tragic outcome of buying into self-limiting beliefs is that nobody fails alone. Why?
Because when someone leaves the door open to the possibility of failure, they risk depriving themselves of all the help and love and assistance they could be giving to those who need them most – friends, clients, loved ones, and humanity.
The work that needs to be done to make this world a safe, healthy and abundant place to live can't happen if some of us are sitting in the middle of "Why do I always seem to be struggling?" It's a form of self-sabotage.  Can you think of someone who does this to themselves?  It's heartbreaking to watch, isn't it?
Try doing this instead:
Ignoring any limiting thoughts
Pouring your heart and soul into building your business
Getting your finances stabilized
Helping more people
. . . and freeing yourself from financial worries so that you can do what you were put here to do.  Because honestly – your future clients NEED you to be successful.
If you could use some help with ramping up your business to the next level, jump over to listen to our latest training call:'How to Have Less Stress and More Money in 2013.'  In this call you'll learn 5 powerful strategies for how you can create a relaxed, fun and profitable business in the coming year.
Isn't it better to take risks and go for your dreams than to play it safe and live a mediocre life?
Wayne and I want more for you than that.  Much, much more.
Yours in soul-centered success,
Mandy Wildman
P.S. You'll be able to get the link to the call immediately on the next page . . .
Greetings!
We promised you a killer strategy call for 2013 – and here it is.  We worked very hard on putting together this critical information that will help you soar in 2013.  And here is it:
Happy YOU Year – How to Have Less Stress and More Money in 2013!
One of the biggest blocks to success faced by small business owners today is simply this: the pain of not knowing what to do, when to do it and HOW to do it.  And that's what we're going to be showing you in this call.
When you listen to this call you'd better have a pen and paper ready.  because you'll be getting some of our inside tips and the premium information normally reserved exclusively for our private coaching clients.
We'll walk you through the 5 'P's of Prosperity. We'll give you the baby steps to take in order to attract massive change in your life and business.
Just do these 5 things like a champ and you'll be looking Prosperity in the face!
You have a beautiful new year stretching out ahead of you, just waiting for you to take the steps that will lead to giant progress and growth for your business in 2013 (we even included a couple of 'surprise bonuses' for you in this call).
 What would less stress and more money feel like for you?
Taking your business to the next level (and your income through the roof!) may feel daunting.  But the information we're going to share with you in this training call will help you to clarify and KNOW what areas of your business to focus on and how to do that in the best possible way for you in the coming year.
We believe a new year deserves a new strategy, a new game plan, and a new YOU.  And it's all yours – free – in this call!
Happy YOU Year – How to Have Less Stress and More Money in 2013!
You'll be able to listen to it immediately.  Pause.  Rewind.  Fast Forward.  On YOUR timetable.
All you have to do to get immediate access to this call is register below to get the link.
We'll email you the link immediately.   And you can listen to it whenever you like, now or later, it's up to you.  Grab it now!

Yours in Soul-Centered Success!
Mandy & Wayne
________________
About Mandy & Wayne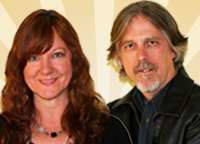 Dynamic husband/wife coaching team, Mandy Wildman and Wayne Porter, are dedicated to helping motivated entrepreneurs clarify their ideal business vision and then turn that vision into a six-figure income and beyond.
Mandy & Wayne have worked with people from all walks of life – from single entrepreneurs launching a new (ad)venture, to established business owners who want to make the jump from being stuck-in-a-rut to achieving goals they had previously not believed possible.
Mandy & Wayne live in the Western North Carolina mountains with their 3 children.
Grab Mandy & Wayne's complimentary tele-class:
'How to Get More Clients Using Social Media'
Using Social Media, Blogging, and Email to Increase Your Cash Flow
Do you need to know how to get money in your door fast using free social media, blogging and email marketing tools to build your business?  Yes?  Then please read on.
Are you a new business owner, solopreneur, healer, coach, or entrepreneur who needs to get in on this 'social media revolution' everyone is talking about?
Maybe you've tried to keep up with social media news and how it all works today (as opposed to a few months ago) and your head feels like it's exploding with all the different ways you can use social media, blogging and email marketing in your business to reach more of your ideal clients.
Don't worry – we've just recorded a brand new training call and today we're going to give it to you as a gift – just fill out the info below and grab it quickly (and you can listen to it whenever/wherever you like!)
If you're stumped about how to build a large, responsive list of potential buyers then this free teleseminar is for YOU, because it's all about how Social Media, Blogging, Email and Cash Flow are Connected and how you can find more leads in less time than ever before.  Leads who are great business prospects for you.
If you're confused about how social media and blogging and everything else works together and how, in less than an hour a day, YOU can become part of the social media revolution, you are not alone.
Honestly, if you feel like a little kid when it comes to using social media to build your business, you're definitely not alone – there are literally thousands of people who feel exactly the same way you do.  Don't worry – we'll help you understand how to connect social media, blogging and email so that you can generate more cash flow in your business.
photo credit: courosa via photopin cc
There are literally hundreds of social media sites out there, as well as thousands of blogs about Facebook, Twitter, LinkedIn, email marketing and blogging for profits.  But sometimes you can come away from those sites more confused than you were before you went there, right?
That's why we've decided to open up one of our private training calls and let you listen in (for free) so you can get all your questions answered about how social media, blogging, and emails lists connect to cash flow, and re-direct your precious time and energy towards building your business and using social media in new ways to get more CASH IN THE DOOR!
If you think it's all too hard and can't be done then you're probably right, but if you still believe it's possible for you – yes, YOU - to have your perfect, profitable business, doing what you love, being who you are, and easily and frequently getting new clients, then you can't allow yourself to miss this free tele-class.
The information we're going to share in this call would normally be reserved just for our private coaching clients – but we're feeling festive and we live to help struggling (but determined) small business owners learn how to use social media in new ways, make great business connections, and prosper.
This teleseminar (you can listen online or by phone) will be all about how to make social media, blogging and email marketing work TOGETHER in new ways to help you get more money in the door and more clients to work with!
What would your life be like if you knew exactly how to prospect for new clients using Facebook and other social media in new ways – without coming across as 'salesy'?
How would it feel to understand how you can build your audience just by blogging about what you do and how you can help your ideal clients?
Would life look different if you knew exactly how to create emails that engage your ideal prospects and get them to take the next step towards working with you?
We are giving away the link to this call for a LIMITED TIME only on a first come, first served basis.  Are you ready to use social media in a new way to boost your profits?
Yes- send me the link, please – I'm ready to LEARN this stuff!
Next (and here's the really fun part), when you sign up you'll be able to actually email us with any questions you have.  We'll do our best to answer your questions about how to use social media sites to reach more prospects and sign up more of your ideal clients.
We can't wait to share our social media secrets with you – so many people (like yourself, probably) have questions about how Facebook, Twitter, blogging, and  email newsletters all tie together in one clever and complete marketing strategy.  Maybe you're even a bit afraid of using social media to make new business connections.  Get ready to be surprised at how simple it seems once you have the information you need!
We could go on and on about why you should listen to this powerful teleseminar about how to get more clients using social media, and how in 2013 more business is going to be done using social media than ever before in history, but really – do you need to hear more?
No – just send the link so that I can listen to the call whenever I want.
[Now, this is where we could have put a sampling of our many, many testimonials, but we figured you might be too busy to read them and we don't want to slow you down.  But if you'd like to read some of our rave reviews, feel free to click the menu item at the top of the page.]
Look, even if you're not sure when you might get a chance to listen to this call, the information it contains about how social media, blogging and email marketing all work together to help get new leads and cash pouring into your business is just too important to miss.
Okay, I get it!  Quit talking and send it to me already!
We can't wait to 'see' you on the call – this information could (and should) change the way you do business for ever!
Yours in soul-centered success,
Mandy & Wayne